See on Scoop.it – social networks in todays world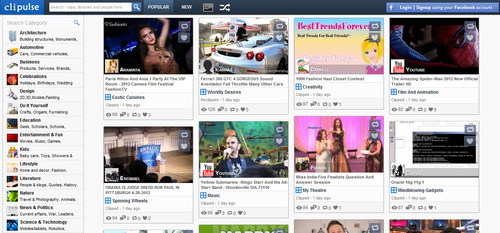 From about page on official website:
"Clipulse is a social video discovery platform allows you to gather, organise and share amazing and interesting videos from around the web. Bookmark your interesting videos and share it with others to let them catch a glimpse of your cool collection.
Checkout the uber cool "Clipper" tool that helps you clip the most amazing videos you come across the web. Enrich your video streaming experience by discovering and sharing new contents with your friends.
Here are some key features:
– You can only join Clipulse by logging into your account with Facebook;
– Create a new library, use the "Create" button in the Clipulse page;
– To clip the videos from the web either use the "Clipper" button provided at the top of a Clipulse page or another option is to use the "Clip via link";
– Use the inbuilt search feature in Clipulse to find videos that matches your interest and shared in public by other members. Also if you loved a video and wish to share, you could do so by clicking the "ReClip" button in the video page;
– A share button in the video view page helps you share interesting videos, with other selected social networking and bookmarking sites…"
Try out it here: http://clipulse.com
About page: http://clipulse.com/aboutus
Read more: http://clipulse.com/faq
See on clipulse.com