See on Scoop.it – social networks in todays world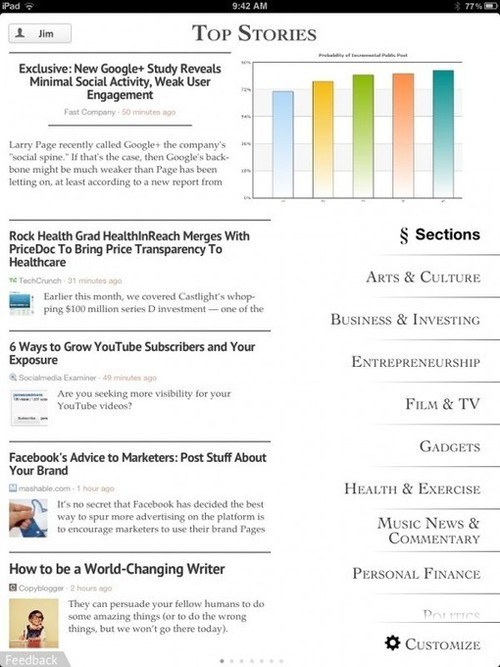 Excerpted from the article:
During the past six months there have been some major changes in the way audiences consume information. These changes are happening simultaneously on two fronts, one in the form of content curation and the other in content shifting.
While content curation is nothing new, the rise in the use of mobile devices is changing when, where, and how we read internet content.
Content shifting:
Mobile devices are allowing people to break free from the computer desk and shift both the physical environment and the time in which they read or consume content.
This content shifting can be as simple as using tools like Evernote's Clearly on a web browser.
Apps such as Pocket and Instapaper allow us to save articles discovered on a desktop computer to read later on any internet-connected device.
Sifting through the glut of information:
Many social media platforms have taken on the role of content curators, developing algorithms in an attempt to help us weed out the information we don't want and present us with the information we do. This has been evidenced through a variety of changes in the Facebook Timeline, the #Discover tab on Twitter, and social search results in Google.
The latest wave of content shifting applications also curate and reformat articles to gear them toward our personal interests, fundamentally changing the reading experience as they do so. Programs such as Flipboard and Zite gather content from RSS feeds, Twitter, and Facebook streams and present it in a mobile-friendly magazine format.
Tips to optimize for content shifting and content curation:
1. Incorporate calls to action directly into the text…
2. Optimize for mobile…
3. Capitalize on compelling images…
4. Write strong headlines, lead paragraphs, and meta descriptions…
5. Maximize social media sharing…
6. Publish and promote quality content…
Each element and tip is analyzed with more information. Read full article here: http://j.mp/LmZpjT