See on Scoop.it – social networks in todays world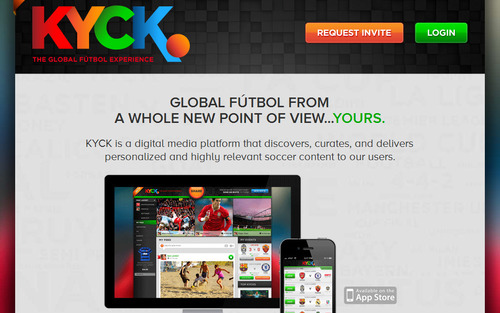 From official website:
"KYCK is a digital media platform that discovers, curates, and delivers personalized and highly relevant soccer content to our users.
Here are some key features:
TOP KYCKS: Hand selected content (sort of) that's based off of all your favorites. My Events: Follow the matches you care about. Because we care about your experience. Never miss a goal, reaction, or a chance to offer your commentary again. My Teams & Players: Select your favorite teams or players and stay up to date on the most exceptional news and information. My Profile: Tell us how great you are, show us how good you look, and share your favorite teams and players. My Feed: Filled with the information from your friends, old and new, along with your teams, players, and favorite accounts…all in real time.
From review on Mashable:
"With Euro 2012's knockout stage underway, there are a number of ways to follow the action — Twitter, TV, online news, or one of the social sports apps that have been proliferating over the past several months.
Kyck lets you follow and be followed by other users and get content delivered based on the teams and players you support. Following users means their posts — whether photos, comments on live matches or takes on club or international squads — are delivered to a stream that resembles something of a cross between Twitter and Tumblr feeds.
You can tag your own posts by player or team so that they're filtered into specific conversations. A Top Kycks section, meanwhile, delivers content the app's algorithm deems most relevant to you for quick browsing according to the favorites you list in your profile.
The app is still in private beta."
Check out it and request an invite here: http://kyck.com
Read article on Mashable: https://mashable.com/2012/06/21/kyck
Watch KYCK demo video: http://youtu.be/mMNgQFYqzVs
See on kyck.com