See on Scoop.it – social networks in todays world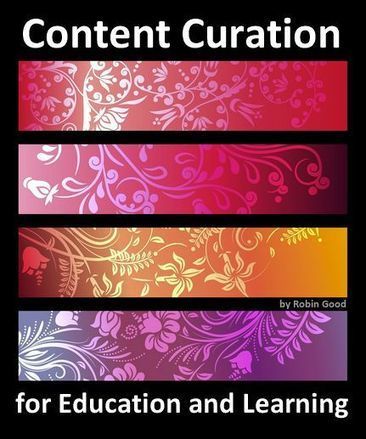 Excerpted from long but very interesting article by Master Curator Robin Good:
"Content curation will play a major role both in the way we teach and in the way we educate ourselves on any topic.
This article, builds up over my recent presentation on Content Curation for Education that I delivered at Emerge2012 virtual conference.
In that presentation I claimed that the adoption of "curation approaches" will directly affect the way competences are taught and the value that can be generated for "others" through a personal learning path.
In this article I outline ten key factors, already at work, which, among others, will very likely pave the way for a much greater and rapid adoption of curation practices in the educational / academic world.
These factors are:
1) An Overwhelming Abundance of Information Which Begs To Be Organized:
New digital literacy skills are of such great importance. They provide the mental tools for individuals to be able to evaluate, assess, filter and organize information in more effective ways than they have done until today.
2) A Growing Number of "Open" and Freely Accessible Teaching/Learning Content Hubs:
Learners will soon need some guidance in selecting the most appropriate course, instructor, approach and institution to achieve their goals most effectively.
3) From a Static, Unchanging World of Information To a Constantly Changing One:
a) Some of us dedicate their efforts to find, identify, monitor and update which are the most relevant "information sources", hubs or curators in every possible area of interest.
b) We equip our youth and ourselves with appropriate mental tools to be able to carry out such tasks.
4) Real-World Information Is Not Held Inside Silos Like Academic Institutions Pretend:
Curation fits in as a more appropriate approach to learning and to prepare for real-world work challenges, by allowing learners to construct meaning by having to research and to understand and to create new relationships between different information-elements.
5) Fast-Food Information Consumption In Rapid Decline – Curation Is the New Search:
Google has lost its "mojo". Search results have become increasingly unsatisfactory as they are often polluted by irrelevant, commercially-driven results or by large brands which Google likes to favor over small, independent and – hard to verify – information sources.
Researchers, educators and guides prefer to refer to trusted "curators" of specific information areas rather than to rely on Google-style secret and commercially-driven algorithms.
6) The Job Market is Rapidly Changing:
Outside of traditional "professionals" as doctors and engineers, companies recruiting new people are looking more for "skills and experience" than for degrees and certificates.
Today, the job marketplace requires people who can "think". People who can come up with creative solutions to unexpected problems…
Content curation offers a practical and immediately usable approach to help new learners train themselves in developing such very skills.
7) Alternative Certification Systems Are Emerging: Open Badges:
Here a few simple ideas.
Move from teaching and certifying to:
a) curating talent – breed new talent by providing motivated learners with the ideal conditions to study, research and develop new ideas.
b) curating educational resources for a specific area of interest / language / region / by creating and maintaining highly qualified "learning paths", and providing assistance, specialized training and resources, to those in specific need of it.
c) curating human guides, training future curators – by cultivating and supporting the development of skilled information-guides and coaches that possess the skills of a curator and those of a great story-teller.
8) Teachers and Professors Can Now Curate Their Own Textbooks:
Academic and independent teaching curators will design new textbook and teaching curriculums / learning paths. They will do so by selecting and pulling together the best and most relevant material in a variety of formats and configurations to satisfy the needs of many different "audiences".
These individuals will create also great collections of exercises, case studies, real-world examples, people's profiles and toolkits to further facilitate the exploration and learning of such topics.
9) Educational Marketplace Open to Thousands of Competitors:
There are now tens of learning marketplaces and platforms that allow anyone to offer and sell courses online. From WiziQ to Udemy the number of alternative services making it possible for anyone to deliver a "professional" course is rapidly increasing.
Today, anyone can become both a "resource", a supplier of content as well as a curator / editor / publisher of new curated content resources such as book collections, expert guides, curated and annotated lists of resources, examples, or templates galleries.
10) Growing Demand for Trusted Guidance Over Learning Content and Curricula:
Traditional academic institutions may indeed become trusted curators and guides to the greater universe of information out there, while specializing their efforts for a set of specific areas, needs and communities of interests.
With such abundance and variety (in quality) of educational materials, learners will soon express a growing demand for trusted guides to help them in selecting quality learning guides, sources, hubs and more than anything, curated learning paths and toolkits to explore and learn deeper about a specific topic.
This is where the opportunity for both sides lies."
Each factor is analyzed with more information, examples and external links. Read full, long and interesting article here:
http://www.masternewmedia.org/curation-for-education-and-learning/
See on www.masternewmedia.org