See on Scoop.it – social networks in todays world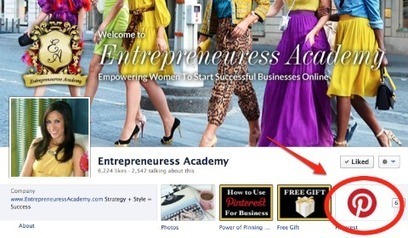 Excerpted from article by Social Media Examiner:
"Establishing a large audience of followers on Pinterest is one of the most important aspects of a successful Pinterest marketing campaign.
Here's the skinny: Although during the setup process you can choose to link your Pinterest account to your Facebook personal page, there is currently no way to automatically hook up to your Facebook fan page.
There's a way to get Facebook fans to create exposure for you on Pinterest. Here are five ways to use:
#1: Get a Pinterest Tab for Your Facebook Fan Page:
The easiest thing to do is just go to Woobox and create a Pinterest tab for your Facebook fan page.
The Pinterest tab allows fans to view all of your boards and even your pins while staying on the Facebook platform.
#2: Post Pinterest Links as Updates on Your Facebook Page:
One way to build your follower base is to share the direct link to your Pinterest page as a status update and tell your fans WHY they should follow you on Pinterest.
#3: Promote Specific Boards on Your Facebook Page:
I recommend you promote a few different boards throughout the week.
That way, you have the opportunity to showcase your Pinterest account to a wider audience on Facebook, and you can introduce them to the diverse areas of value shared on your Pinterest page.
There are two ways you can promote a specific Pinterest board on Facebook.
– Update your status by uploading an image of a pin to Facebook. Add a description and include a link to the board on which that pin is featured.
– Post the link to your Pinterest board as part of a status update. An image of one of your pins on that board will be automatically generated.
#4: How to Promote a Particular Pin:
Sometimes the best way to really serve your Facebook community is to highlight the value that you are providing in one particular pin.
This is a great way to get maximum exposure when pinning your own original content. Remember these posts can and will be shared across Facebook by your fans.
The same two strategies apply here, as they do to promote a specific board above. You can either upload the image of the pin as a status update (or include a link in the image description), or you can just include the direct link to the pin in your status area.
#5: Promote Your Pinterest Contests on Facebook:
Contests and promotions are becoming all the rage on Pinterest. They are a very effective way to quickly add a lot of new followers and drive a ton of traffic to your site.
A great way to leverage both platforms is to promote your Pinterest contest on your Facebook fan page.
Read full article here:
http://www.socialmediaexaminer.com/build-a-pinterest-following-with-facebook/
See on www.socialmediaexaminer.com